Our History as a Custom Hose Manufacturer



Established in 1992 to meet the needs of the Thermoplastic LP Gas hose market, Flex-Tech Hose & Tubing quickly secured its place as a quality, custom manufacturer of Thermoplastic hose and tubing products.
Since the early 1990s, our innovative LP Gas hoses have been incorporated into RV manifolds to replace the clumsy and heavy copper tubing found in older RVs and houseboats. Since then, we have been honing the craft and we are well established as the industry leader in propane applications.
As our expertise grew, we began serving multiple industries, providing custom and specialized solutions. Flex-Tech Hose & Tubing is now considered a world class hose manufacturer serving the OEM, After-market, RV, marine, industrial and specialty hose markets.  With our in-house extrusion capabilities, we are able to specialize in bulk and custom solutions. We make and stock a wide range of extruded hose, hose assemblies, and tubing for gas, air and fluid handling. 
Flex-Tech has listings with many of the top standards organizations including UL, CSA and NSF and all our products are made to meet or exceed industry standards.
Custom Hose Solutions for Industrial Applications
We partner with engineers, project managers, sourcing agents, buyers, and owner/operators from a variety of industries to meet their unique production needs. Hoses and assemblies are a vital component to many industries, but off-the-shelf options don't always work.  We collaborate with each customer to understand the type of fluid being used, pressure required, and other special requirements in order ensure the best solution is designed and manufactured.
In addition to meeting unique or unusual specifications, customers partner with Flex-Tech to solve challenges such as navigating complex importing/exporting procedures and developing new compounds for specific applications.
Meet Our Team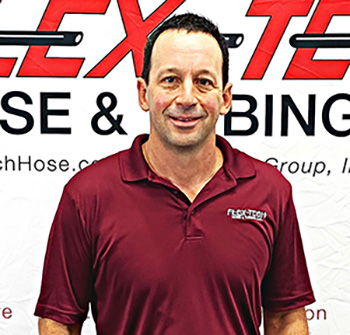 Lance Becker
General Manager, Texas Location
Lance is the General Manager for the Flex-Tech Hose & Tubing Extrusion Division in San Marcos, TX.  He is responsible for the overall operation of the plant which includes extrusion and assembly of industrial, construction, LPG and general-purpose hose and tubing products. 
While in college his education focus migrated towards engineering and he began searching for his first career-oriented position.  He was invited to join Flex-Tech back in 1997 as a part-time Engineering Intern while going to school full-time.  Upon graduating with his bachelor's degree from Texas State University, he accepted a position as a Quality Engineer and later Quality Supervisor with Flextronics International where he was involved in injection molding part and mold qualification for global customers like Dell, HP and Compaq in the fast-growing desktop PC market. 
In April of 2002 Lance was offered an opportunity to return to Flex-Tech where he has spent the last 18 years of his career serving in a number of different roles.  The various positions he's held allowed him to learn all aspects of the business while shadowing the founder and former owner, David Flint.  Today he leads a team of approximately 50 employees, positioning the company as one of the top suppliers in the U.S. thermoplastic hose market.
Lance holds a B.S. in Engineering Technology from Texas State University in San Marcos and has been involved in the coaching, advising and development of numerous small business start-ups which furthered his hands-on experience and brought additional value and expertise to his leadership role at Flex-Tech.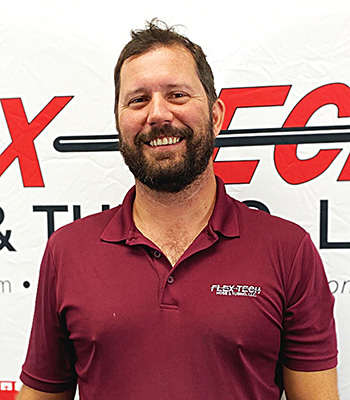 John Miller
Sales Manager
John is the Sales Manager with Flex-Tech Hose & Tubing. He works closely with customers to understand their challenges and guide them to a solution for their application.  He excels at problem solving in the early stages of a customer relationship, even with little to no idea of a clear solution. John has a knack for understanding difficult concepts and communicating them clearly. Customers know him to be agile and adaptive to problems and situations that may seem unsolvable at the outset.
Prior to joining Flex-Tech, John worked for EBG Flow Products, Inc. While building their website, he learned the products so well that he took a full-time inside sales position. During the course of his 11-year tenure, he became the Sales Manager where he was responsible for sales, marketing, logistics, and engineering calculations, and product development.
John is a graduate of Houston Baptist University with a double B.S. in Spanish and Religion. He continued his education at Union Theological Seminar (NYC – Columbia University) where he received a Masters of Divinity. His focus was on archaeological studies and he also learned Greek, Hebrew, and Aramaic as part of these studies. John is also fluent in French and Spanish.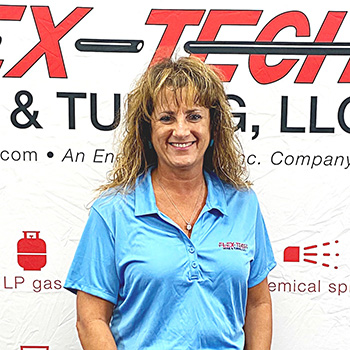 Joell Tomlinson
Accounting Manager
Joell is the Accounting Manager for Flex-Tech Hose in San Marcos, Texas and in Goshen, Indiana.  Her responsibilities include the overall daily operation of accounts payable, accounts receivable, cost accounting, banking, payroll, and monthly financial statements.  In addition to these responsibilities, Joell handles the annual review and administration of employee benefits along with human resource duties.
Joell has been with the company since May 1995.  She began in accounting with the S.H. Leggitt/Marshall Gas division then transferred over to FTH in 2011.  Prior to FTH, she was the Accounting Director for an import company of cabinets and bathroom accessories that distributed to the hardware market. 
Joell attended Texas Lutheran College focusing on Financial Management and Employment Law.  She has earned her Human Resource Generalist Certification from the Society of Human Resource Management and likes to spend her time outdoors.  She is a Director on the Comal County Fair Association volunteering her time as Chairman of Rodeo Hospitality for the local County Fair.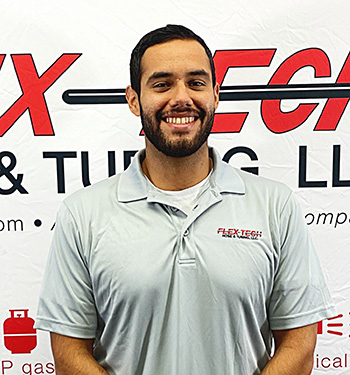 Mike Pedraza
Project Engineer
Mike graduated from Texas State University in 2017 with a bachelor's degree in Manufacturing Engineering.  Before working at Flex-Tech, Mike worked for Kiewit Building Group as a Field Engineer, visiting job sites to ensure that everything was built safely, correctly, and on schedule. He was responsible for monitoring many different subcontractors, providing him the opportunity to strengthen his interpersonal and management skills.
As a Project Engineer with Flex-Tech Hose & Tube, Mike manages many tasks including process optimization, designing fixtures and tooling, document control, troubleshooting, and new product development. Mike's strengths include problem solving, planning, and designing which he gets to demonstrate regularly.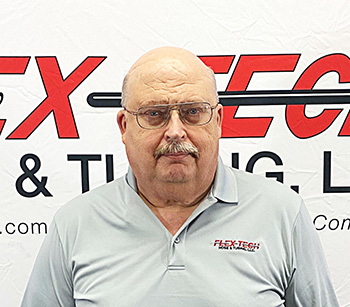 Gary Cutsinger
Plant Manager
Gary is the Plant Manager for Flex-Tech Hose & Tubing. He brings 45 years of experience in most aspects of plastics manufacturing.  Gary started in plastics in 1975 when he joined Certainteed Corporation in the production of large diameter rigid PVC municipal water piping.  He went to work for Vanguard Plastics in 1979 in the production of Polybutylene and Polyethylene piping.  He held various positions at Vanguard including overseeing all production activities.  Gary left Vanguard in 1991 to assist in the startup of Flex-Tech.
Gary has two children and three grandchildren with a fourth on the way.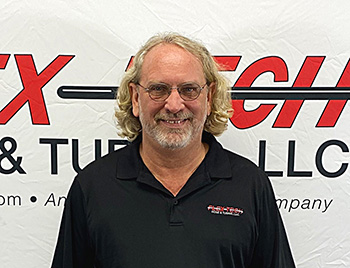 Mic Chrisman
Production Manager
Mic has worked for Flex-Tech Hose & Tubing for 18 years, serving in several different positions with the company. He started in the assembly department and worked his way up to Production Coordinator and is now responsible for the extrusion department.
Mic is a U.S. Navy veteran and a graduate of Texas State University with a Bachelor of Arts in Anthropology. He has almost 25 years of experience working in manufacturing, starting with a Fortune 200 auto parts manufacturer prior to becoming a member of the Flex-Tech family.  In his free time, he enjoys running marathons, canoeing and plays several different musical instruments.  His other interests include history, human migratory patterns, and evolutionary biology.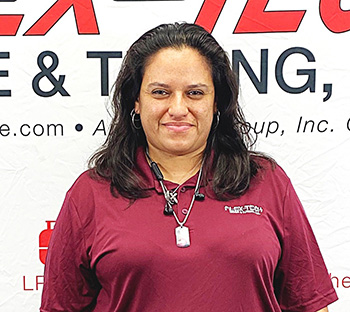 Mary Perez
Assembly Supervisor
Mary currently serves as our Assembly Supervisor, overseeing the crew responsible for producing quality products that keep customers satisfied. Her work ensures that Flex-Tech's products are they best they can be prior to leaving the plant. 
Prior to joining Flex-Tech, Mary served as a Customer Service Manager for Walmart where she learned to juggle multiple responsibilities and interact with individuals from various levels of the organization.  Her retail experience translated seamlessly Flex-Tech where she is known for being a team player and encouraging her crew to get things accomplished quickly and efficiently.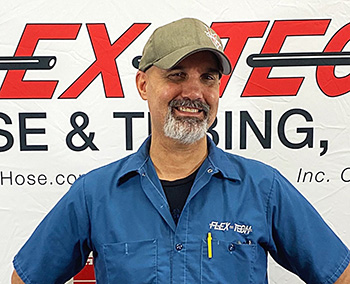 Tim Hopkins
Maintenance Manager
Tim is the Maintenance Manager for Flex-Tech Hose & Tubing in San Marcos, Texas. He is responsible for repairs, troubleshooting, and upgrades for the building and the extrusion equipment.
He has been an unrestricted journeyman electrician since 1992 and has managed teams of electricians in the Austin area and at University of Texas where he was involved in maintenance. He spent several months in Mongolia and Russia training and installing High Voltage AC and DC gear for production. Tim was also key in the maintenance, moving and set-up of the production and shipping departments at Deep Eddy Vodka from Dripping Springs to the new Buda, Texas location.
Tim enjoys golfing, spending time with family, and taking his 71 SS Nova to hot rod and classic car shows locally.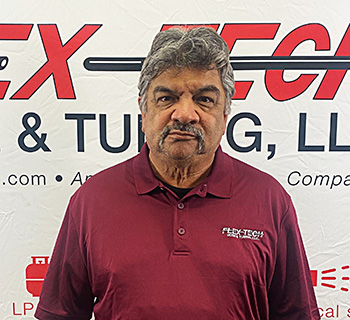 Mario Hernandez
Shipping Manager
Mario grew up in San Marcos, Texas and went to San Marcos ISD.  He previously worked at Marshal Gas Controls, a branch of which became Flex-Tech Hose & Tubing.  For Marshal Gas, Mario was primarily working in the warehouse and shipping and receiving.  During his time at Marshall Gas, he was promoted to supervisor positions and given more responsibilities. 
Professionally, Mario is known for his expertise in logistics and shipping and receiving.  What he loves about the industry to the opportunity to meet people from all walks of life and all nationalities.  Mario is depended upon and well-liked in Flex-Tech and is aware of his strength as being a "people person."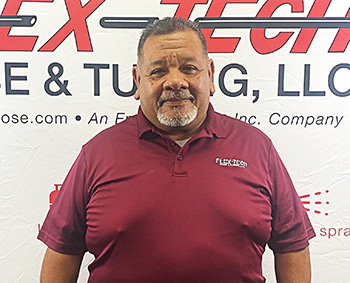 Rudy Martinez III
Quality Control Supervisor
Rudy is the Quality Control Superior for Flex-Tech Hose in San Marcos, Texas. His responsibilities include overseeing quality control processes and procedures to help improve the overall quality systems. When applicable, he introduces and incorporates new processes to ensure we deliver a superior product.
Rudy was born in San Antonio, Texas and briefly relocated to Albuquerque, New Mexico to attend Albuquerque Technical Vocational Institute where he studied Electronics. When he returned to Texas, he attended Austin Community College and earned an A+ Certification as a Computer Technician. P.C. repair continues to be a hobby of Rudy's.
Rudy spent several years in the high-tech industry, working for such companies as Intel and Samsung. While working as a Field Service Technician for Horiba Instruments, a Japanese electronics company, he handled their Liquid Particle Monitoring System line. In the early 2000's Rudy joined Goodrich Aerospace in San Marcos where he was a machine operator for specialized equipment that produced a titanium honeycomb core used in passenger airline production.
While with these companies, Rudy attended many training classes in quality control, quality assurance, lean manufacturing, statistical process control, Six Sigma, and studied Dr. Deming's manufacturing philosophies. While employed with Flex-tech, Rudy became a member of the American Society of Quality, completing courses to become a Certified Quality Auditor and a Certified Quality Technician.
Rudy is very proud to have two of the best quality control technicians on his team - Maria Carr and William Rainey. Rudy is honored to work with individuals who are extremely professional, conscientious, and serious about the quality of Flex-Tech's products.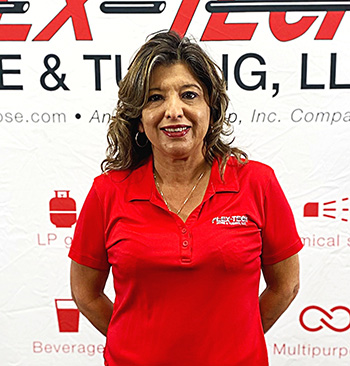 Gina Perez
Accounts Payable and Customer Service
Gina currently serves as our Accounts Payable and Customer Service Representative, specializing in resolving issues on behalf of the company. She is known for being a problem solver, ensuring that the customer is heard and receives what they need in a timely fashion. One of her favorite aspects of the potion is the teamwork involved in keeping customers satisfied.  Her previous experience includes several positions with Republic Plastics. She spent three years working in accounting before moving into customer service where she thrives.