LPG Hose & Assemblies (UL and CSA Listed)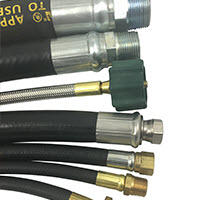 LPG hose is the foundation of Flex-Tech Hose & Tubing, LLC. We began by manufacturing LPG hose for RV LP gas manifolds back in 1994 to replace the clumsy and heavy copper tubing found in older RVs and houseboats. Since then, we have been honing the craft and as a result are well established as the industry leader in propane applications.
All our bulk hose meet and exceed the high-quality UL and CSA standards, including hundreds of hose assembly combinations. Our propane hoses can be found in RVs, landscaping, poultry houses, inside and outside personal and industrial heaters, on weed clearing torches, and many other unique applications worldwide. Each industry has different fitting, climate, durability, and national safety standards requirements which we have the capability to meet or surpass. Contact us to discuss your specific needs so we may partner with you for the perfect solution.
---